Kimai Open Source Time Tracking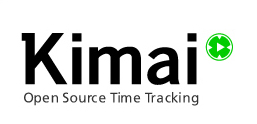 I have to say that I love this program, and I believe that once you try it you will to.
This is a great piece of open source software from Kevin Papst and Severin Leonhardt which makes keeping track of your time extremely simple.
Kimai can be rather easily  installed on your own web server, and accessed through any web browser, anywhere in the world. It is essentially an online time-clock that allows you to keep track of your time by customers, projects, and particular tasks in a very easy to use system. In fact, the simplicity of the system is what makes it truly shine.
I love the way I can set up a new client, input the project I am working on for them, and then input the different tasks that I will be working on for that project. Kimai then allows me to keep track of the time I have spent on each task,  for each project, for each client, and it automatically calculates my earnings based on what hourly rate I have specified.
I've been using Kimai for about 5 weeks now, and the only drawback I have found is that the invoice system requires a PDO database connection. For me that is not really a big deal as I prefer to use some other systems for my invoicing needs.
If you are interested in Kimai, you can find this software at kimai.org and try it out yourself. I think you will find that it is well worth the 15 minutes it takes to set up, for something that can help you manage your most valuable asset… Time.
One Response to Kimai Open Source Time Tracking