Joomla – A Simple, Yet Extremely Powerful Tool For Your Business.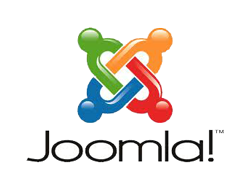 How can using Joomla for your professional business website benefit your company?
First let me mention what Joomla can't do. Joomla will not teach you how to build websites, but it can allow you an amazing amount of control over your site once it is in place, and that can be very powerful. Plus, like WordPress, Joomla can be connected to your social media sites in almost the same way that we described in our previous post.
Now let's start with Content Management. You are probably familiar with the idea already, but if you are not, it is basically what the name implies, managing the text and images that on your site.
Successful websites, with high traffic, are sites where content is updated on a regular and frequent basis. If you have a standard HTML website, and do not know how to work with HTML, updating on a regular basis can become quite costly.
That might not be an issue if you are a well established business with a team of professionals, but if you are a new business, you might not be able to afford the added expense. Another issue to keep to keep in mind is that updating your website can sometimes take much longer than necessary if your Web Master is too busy working on multiple projects to add your updated content to your website when you need it. That is to be expected if you have a Web Master who knows what he is doing, but it can delay updates.
Thus for issues of Content Management, the solution is a Content Management System, or to those of us who hate typing, CMS's.
Enter Joomla, a free, open-source content management system (CMS) and application framework that powers 2.7% of the entire web. 2.7% of the web might not sound like much, but when one thinks of the gargantuan magnitude of the web, that is huge.
CMS's like Joomla allow those who do not know HTML code, to update and control their own websites with relative ease and without the need to know how to code. For someone to add content to their own website, Joomla uses a WYSIWYG style editor which is similar to a text editor and very easy to learn how to use (most people are already familiar with MS Word or an equivalent program). I love it for my clients who want to post their own updates, such as news posts, new pictures, new specials, etc…
Besides allowing non-tech savvy people to update their own websites, Joomla's framework is an extremely powerful and scalable architecture that can fit all kinds of website needs right out of the box. Its architecture can also be extended through the use of modules, plug-ins, and components to add new functionality. On the Joomla Extensions website, there are currently 7516 extensions listed at the time this was written.
These extensions allow a Joomla website to do almost anything, like add e-commerce functionality, personalized forums, database handlers, events calendars and listings, and so much more. To be honest, I've run into very few website situations where Joomla was not able to handle the needs of one of my clients. Joomla is also secure, updated frequently, and free.
The fact that Joomla offers so much in a free piece of software is really quite impressive. There are paid solutions that are similar to Joomla, some better and some not as good, and for my money I almost always go with Joomla.
All you really need to get started is a web server or hosting account that runs PHP and MySQL, (most hosting company's have this), a customized template for your site (don't use the same ones that everyone else is using) and someone to install and set up the software (don't use the pre-installed scripts, as they rarely ever install without some kind of error).
If you are not tech savvy, or you do not know how to code, I would suggest you let someone else do most of the set-up for your site, and also let them show you the ropes of how to use Joomla. It is a large and robust program with many options, and if you are not a Web Master you can break lots of things on you own. Still once the set-up is done and you have been shown what to edit and what not to touch, you will be controlling and updating your site in no time at all.
When set-up properly Joomla is very SEO friendly and allows users to add their own meta-content on each and every one of their posts, menu-links, categories, and sections. You can also customize the titles for your pages, update and edit your global key words and meta description, link titles, links, menus, and so much more.
With the release of Joomla 1.6, there are even more options for Joomla and it's great architecture. To find out more visit Joomla's website at www.joomla.org
2 Responses to Joomla – A Simple, Yet Extremely Powerful Tool For Your Business.